PAX Unplugged 2022
There and back again with more gaming inside!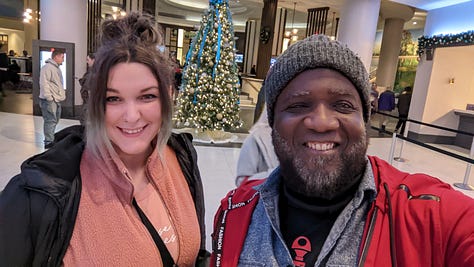 Last year was my return to game conventions since the COVID pandemic began. This year not only did I return to PAX Unplugged, but I also ran some games, and I ventured out away from the convention to be a tourist.
On Arrival
Like last year PAXU made use of apps for vetted vaccine cards. Masks were required in the convention space, with some guidelines on what to do with the free-face folks that come to your tables. Overall it was a fast entry process with multi-phased checks covering vaccinations, security, and admissions/will call. It felt like more areas were opened up and more attendees this year.
Play.Fearless is a reader-supported publication. To receive new posts and support my work, consider becoming a free or paid subscriber.
The Catching Up Game
There were a lot more folks to see, though it was really quick hellos and fist or elbow bumps in the halls, and we dashed off to our events. I did get to spend time with the Burning Wheel folks, the IPR booth folks, Tony and the Plus One Exp crew, and the man from the future, Cam Banks. I chatted a bit with the Free League folks; it is incredible how much of their catalog I own and have played.
Off The PAX Brick Road
Elle and I took a timeout to visit the Reading Terminal Market for a coffee and snack break. We got to talk with plenty of surprised teachers attending a parallel teachers conference. For a couple of evenings, we walked and got to see a holiday concert, a little outdoor Christmas market, and a street full of young people nightlife!
Game Sessions
Running games presented some new challenges that I think I have solutions for. Talking through a mask to teach and facilitate multiple game sessions - is exhausting. Going forward, I'll use more 'Infographic' style handouts and voice recordings.
I ran two tables of Atma, and one shortened session of Technoir. Atma is an anime, sci-fi RPG game using cards and the PBTA mechanics. It is made to be played in a two-hour slot as a one-shot. It delivers and deserves it's own 'Played It' post. Both my Atma tables were awesome!! The second was made of five women —which shouldn't be a thing, but was a first for me!
Technoir always delivers, though the players always seem to stay at the fringes of the dynamic "plot" map. We were playing in the ruins of old earth post-AI-wars, tracking down a spy of the AI cores.
Maggiano's Tradition
Last year, on Sunday, Elle and I had a great dinner at Maggianos -we kept that tradition going this year. We didn't see the singing waiter, but had a funny conversation with the wait staff about my "gaming peoples".
That's the con season for me. I missed a lot of them this year. I'm considering OrcCon 2023 to kick off the new year. We'll see. 🤷🏾‍♂️
Play.Fearless is a reader-supported publication. To receive new posts and support my work, consider becoming a free or paid subscriber.