AI Art and you and Warren G.
AI taking over your home game's visuals.
I own a software company. It's almost 20 years old, born out of a series of just bad shit starting in 2006. Today we produce and maintain bespoke software across of spectrum of businesses. I get asked by my regular small business folks all the time about AI.
Yes. AI is coming for your jobs.
Shooot, I can't call it. I think we're in FAFO mode - and it could go badly for some cohorts. I was first startled when I walked into a local chain eatery and saw how many staff weren't there. The tables had these nice little devices to handle everything from your starters, drinks, main course, dessert, more drinks, and payment. Folks just show up with your food. First, I was all "Hell's Yes!!" Order how, when I like. Pay when I'm ready to roll.🤘🏾
Play.Fearless is a reader-supported publication. To receive new posts and support my work, consider becoming a free or paid subscriber.
But where did all those staff folks go?
I have opinions and thoughts about all things economic AI. But this post is about AI taking over art duty in our home games.
The Son of Kyros got me hooked a while back on Midjourney. I easily blew through the trial period experimenting. What can I do? What are other folks doing? Is this useful for gaming?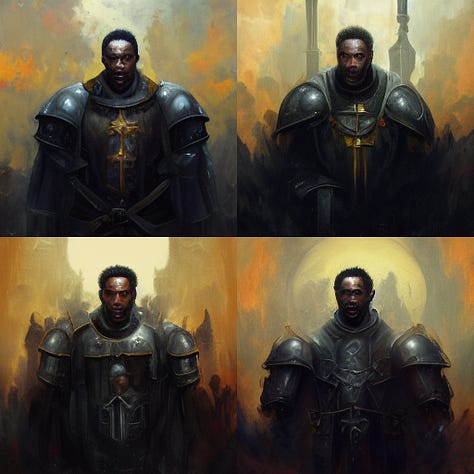 (l-r)
Paladin for a dragon slayer game premise

A paladin sword for..slaying dragons

Manga-style orbital paramedic

Magical city in a bottle

Heechee ship

Can Midjourney make me a map?

Shrine and bird-themed guardian

attic room

Valentine, magical halfling face-claim.
For me, finding female images to use in fantasy or sci-fi games is rough. The almost-clad, soft-porn images I get searching collide with the collective tones and imagery for most of the games I've run or played in. This gets more challenging if I looking for a woman with some ethnicity. Modern stuff is easier —but those poses…
With AI art, I mostly get what I asked for and I often get surprises. The bottled city and the shrine above introduced elements I had not considered. The verticalness of the city in the bottle changed my perception and the history of my fantasy Kandor city. The shrine image suggests a larger complex than I had pictured and high above the clouds - which was fantastic for the game I was running.
I'm currently playing in a West Marches game, and I rolled -not picked, a halfling wizard. I was not amused and thought about whining back to the GM. I thought, let me see what this fool might look like, and Valentine Berrygrove was born.
I've done in-game logos, uniforms, and quick mugshots based on adjectives and emotional phrases and inserted the results into my games. Online and IRL. It's been a fun and inspirational tool for me.
AI tools far outpace our legal system and our thoughts about the management of these tools. Much of our tech is this way and we haven't fully caught up. I don't believe we, humans, will put AI back in the box. You and I know how things could go from the sci-fi stories we've consumed. Businesses gonna business. The economic benefits are too appealing to pass up. We could use a little more Nate Dogg and Warren G about now.
Play.Fearless is a reader-supported publication. To receive new posts and support my work, consider becoming a free or paid subscriber.